It's not easy to look meaner (and we're not talking Richard and Kyle here) than Kyle Busch some days, but Twitter users seem to make it a challenge to get there.
The start of the second half of the NASCAR Cup Series season brought drivers to Nashville, immatures to Twitter and the No. 18 Toyota to the garage for emergency repairs.
It's just another weekend in the life of the future Hall of Famer.
The keyboard warriors descend on Kyle Busch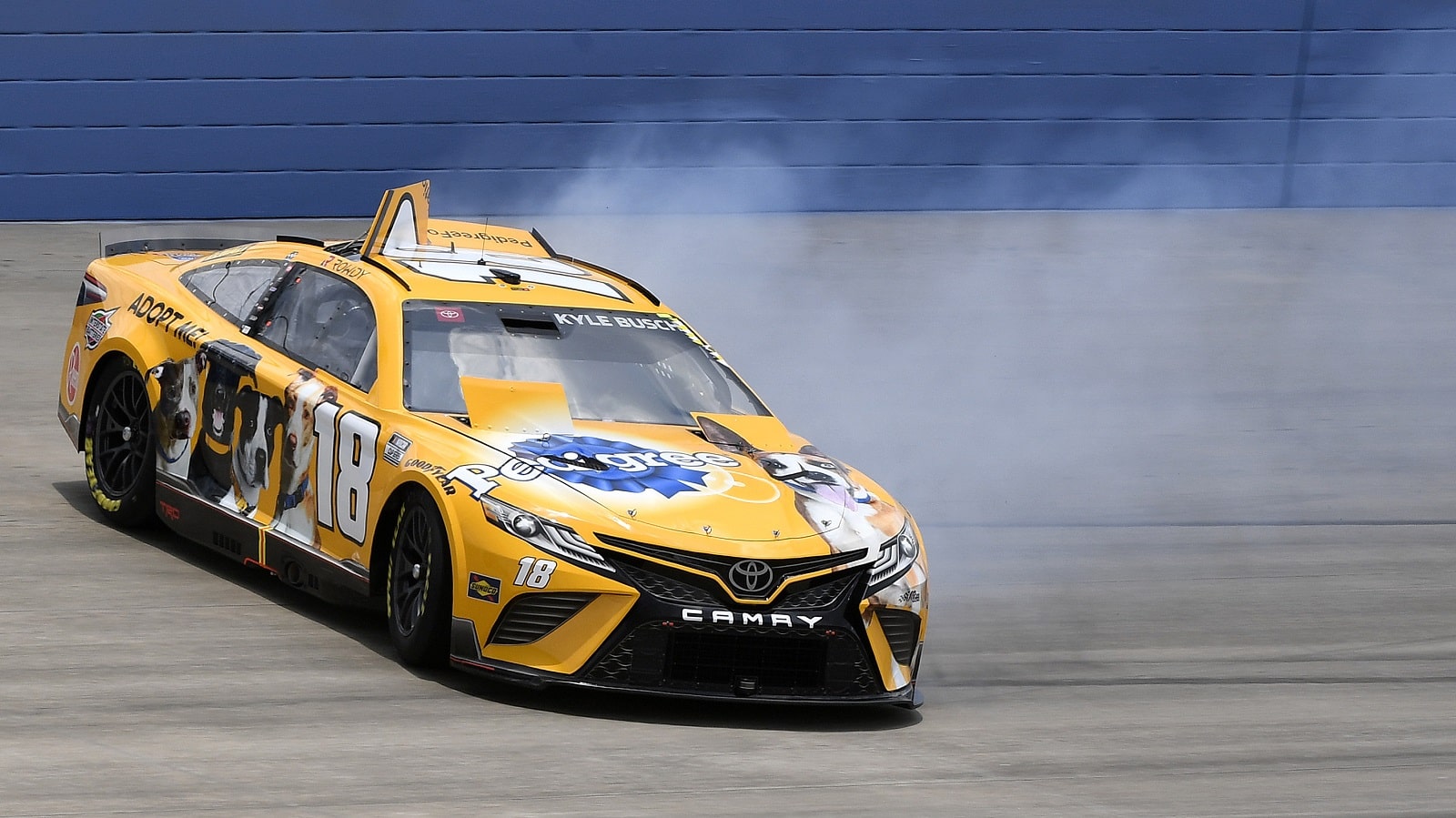 Kyle Busch is intimately familiar with that expression that no good deed goes unpunished. However, in true Rowdy fashion, he is not one to take sitting down.
With the NASCAR Cup Series coming to Nashville after a week off, Busch made an appearance at an area Walmart to promote the Rowdy Energy product line. As part of it, the two-time Cup Series champion arranged to sign autographs for the first 100 people who responded to the event.
Now, we should point out here that as much as some racing fans may despise the driver, he is popular with a large segment of the crowd. Therefore, he tends to draw a crowd, so 100 autographs might have been too few. If the people who organized the event had been thinking, they could have splurged to produce 224 color prints.
That would reflect his 224 career wins in the three national series. By signing and numbering them, he would have been gifting lucky fans with a souvenir. Better yet, he could have signed 225 of them, displaying some characteristic arrogance in hinting that he planned to win on Sunday.
Unfortunately, cutting the number of autographs to 100 on a day when he had to hit the track to practice pissed off a keyboard warrior. And you can feel that the keyboard is located in mom's basement.
Kyle Busch fires back like only Kyle Busch can
Naturally, someone turned on his Twitter account, where access is cheap and chat is cheaper. A user with 101 followers yelled at Kyle Busch:
"Richard Petty would have stayed until anyone who wanted an autograph got one~Just signing for the first 100 people is a bigger idiotic move than when you smashed Sam Bass guitar~"
Busch slammed his windshield into that bug at 150 mph with his response:
"Cool. I'll be staying and signing autographs for over 5,000 people and missing practice at 5 p.m. You should be my publicist so I can tell my team that my job isn't as important as signing autographs."

Kyle Bush
Of course, another Twitter critic, this one with 88 followers and a bio entry calling pro wrestling "the realest thing in my life," felt compelled to chime in, telling Busch, "lol, crybaby, Kyle, again."
That was an easy pick for Busch.
"Your biography tells me everything I need to know," he replied.
There may be some karma at work in qualifying on Saturday.
You could practically hear the cackling of Kyle Busch's enemies on Saturday during qualifying for Sunday's NASCAR Cup Series race. While his Joe Gibbs Racing teammate Denny Hamlin was winning pole position with a 160.413 mph lap that passed Joey Logano, Busch did not complete his lap.
The No. 18 Toyota failed to hold its line coming out of Turn 3 and backed into the outside wall. That will send Busch to the back of the field for the Ally 400.
I like it sports broadcasts on Facebook. Follow us on Twitter @castingdeportivo19 and subscribe to our Youtube channel.
RELATED: Kyle Busch Goes Whole Kyle Busch Gives a Brutally Honest Review of His Own Documentary, Saying He Left Out Elements Including Why He's Misunderstood